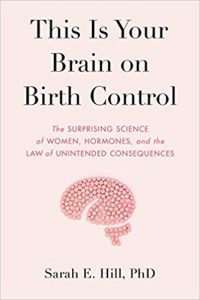 This is Your Brain on Birth Control: The Surprising Science of Women, Hormones, and the Law of Unintended Consequences by Sarah E. Hill
Format: Book
Who it's for: Adults and Teens
Will your moods go up—or down—once you're on the pill?
Does using hormonal birth control change your ability to remember events in your life?
Can being on the pill influence who you choose to marry?
Scientists have found the answers, but the vast majority of women have no idea that they should even be asking these questions. This is Your Brain on Birth Control aims to change that situation. Sarah Hill, a psychologist (and birth-control user) explains how a seemingly simple decision about which method of pregnancy prevention to use can affect far more of your life than you'd ever suspect.
This book is no anti-birth-control polemic, though. Hill argues that the best path forward is not the restriction of access, but the spread of information. Women, once adequately informed, can make the best decisions for themselves about this matter of critical importance to women's (and, it turns out, men's) lives.
This is Your Brain on Birth Control feels like a conversation with your witty best friend who happens to have a PhD. If you've ever used hormonal birth control, plan to use it in the future, or are close to someone who does, you just might want to find it in the catalog.