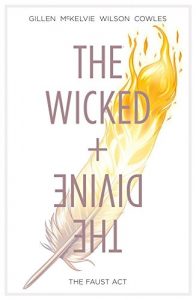 The Wicked + The Divine
Format: eBook, Book
Who it's for: Adults
The Wicked + The Divine takes place in a world much like the one we are familiar with, but with a unique twist: Every ninety years, a phenomenon called the Recurrence takes place, and 12 deities – gods and goddesses – incarnate the bodies of young people, imbuing them with supernatural powers. For two years these members of the "Pantheon" use their powers to create superhuman art, inventions, and inspiration. They are loved and hated. Then they die. And it's happening again.
It's the 2010's, and our gateway to the Pantheon is Laura, a "fangirl." Laura adores the Pantheon and would do anything to be among them. She attends a deity's performance, gets to meet some, befriends one, and is then swept up into a vast conspiracy involving the all the gods, the mysterious person who discovers/awakens them, and the truth behind the Recurrence and what causes it.
The Wicked + The Divine is a story about life and death. It's a story about music and how it can speak to us and through us. It's a story about the desire to create, and how consuming that drive can be. It's a story about the cult of celebrity: how we worship them, or attempt to "cancel" them. (The Pantheon are the ultimate stars; they even bare resemblance to pop music icons to reinforce this idea.)
If you like mythology, music, and mystery, check out the graphic novel series The Wicked + The Divine, starting with Vol. 1 The Faust Act. We have the complete series at the library, and digitally via Hoopla. See it in our catalog.