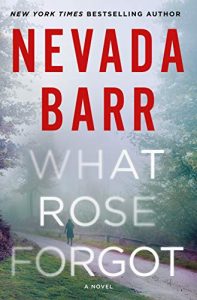 What Rose Forgot by Nevada Barr
Format: Book
Who It's For: Adults
Rose is a widow in her sixties who awakens in a nursing home, in the ward for dementia and Alzheimer's patients. She does not know how she got there or when. She does know she should not be in this unit and she does not have a memory problem or maybe she does but not Alzheimer'!  What has happened and where is her family? Why would they admit her here? After overhearing a nurse say she will not make it through the week, Rose decides she must escape. She only pretends to take the pills they bring her each day. She is finding that her head is less fuzzy and she is beginning to remember some things. Rose plans a daring escape.
Once outside of the facility, Rose makes her way to her Granddaughters old playhouse, the only place she thinks she will be safe and waits to get Melanie's attention.
As soon as 13-year-old Mel finds her GG there, she gets her safely back to her own home.  Rose is laying low and only contacts her recluse computer savvy sister for help. Rose begins her investigation into the mystery of her incarceration at the nursing home. How does she convince anyone that she's not actually demented? Her relatives were the ones to commit her, all the legal papers are drawn up and the authorities are on the side of the nursing home.
Then a would-be killer shows up at Rose's home in the middle of the night, Rose knows someone is out to kill her. With the help of her sister Marion, her granddaughter Mel and Mel's friend Royal, a few harebrained stunts on Rose's part and then the unlikely but blackmailed would-be killers help, Rose begins to unravel the chain of events.
This mystery is a serious, yet funny adventure of What Rose Forgot. A clever novel of action and suspense yet quite witty and entertaining. I laughed out loud while reading this novel.
Find it in our catalog