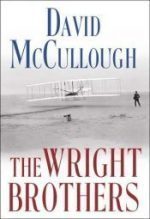 The Wright Brothers by David McCullough
Format: Eaudiobook
Who it's for: Adults
If you think that you already know everything there is to know about the Wright Brothers and their contributions to the Age of Flight, you should read The Wright Brothers by David McCullough. McCullough does an excellent job of sharing with the world, not only the brothers' first attempts at flying at Kitty Hawk, North Carolina, but also the years of research, correspondence and events leading up to their first sustained flight on December 17, 1903.
David McCullough gives a detailed account of the brothers' young lives in Dayton, Ohio, their strong family background and values, their education, the accident that kept Wilbur from attending college, and their bicycle shop where they raised the money to allow them pursue their dream of flying. McCullough describes life on the Outer Banks during the late 19th century (it was fairly treacherous at times) and what Wilbur and Orville had to go through just to travel there.
What is intriguing about this book is the amount of research the author presents about the lack of interest that the U.S. Government had in their work until the Wright brothers demonstrated the success of their flying invention in France. McCullough also brings to light the stories of the other people who were trying to create flying machines during that period of our history and thus competing with the brothers for notoriety and patent ownership.  By going through family scrapbooks, notebooks, correspondence, and diaries, McCullough has created in his book a living picture of what the lives of the Wright brothers was really like.
Take some time to read this book, or listen to it in Eaudiobook or audiobook CD form. You will learn much more about the lives of the Wright family, their work, and their days on the sandy dunes of Kitty Hawk, North Carolina in 1903.