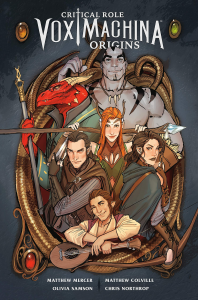 Vox Machina Origins #1 by Matthew Mercer and Matthew Colville
Format: Graphic Novel
Who it's for: Adults
From the creators of the hit Dungeons and Dragons Twitch series Critical Role comes the origin story of Vox Machina, would be heroes who would eventually save the world! But all heroes have to start with an adventure, and when a dark shadow looms over the backwater town of Stilben, it's up to them to solve the mystery. The group consists of combative twins Vex and Vax, Scanlan the rambunctious bard, Keyleth the awkward druid, and Grog…..who is….Grog. Written by voice actor and game master himself Matt Mercer and Matthew Colville, this original story starts before the events of the series. It's a great way to introduce the show before the Amazon animated series comes out later this year. Art by Olivia Samson is well done, with great detail paid to the character's expressions and reactions to what's going on in the scenes. Of particular note, is when the book shifts to table top view, similar to graph paper, which gives you look as if you were looking at a game map in action. The comic is witty with fun fantasy action, as well as diving into the background of these popular characters. The end of the book even has a fun art section with stats for a few unique characters and magic items to use in your own adventures. This is a fantastic book to get started with and is part of a growing group of D&D items that we've added to our collection, take a look!