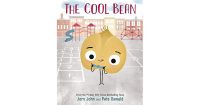 Book: The Cool Bean by John Jory
Format: Book
Who's It For: Children of All Ages
Who hasn't wanted to be a cool bean? To be like the "in" crowd? To have that certain "je ne sais quoi"?
In this picture book, our main character, a nameless bean, tries to be a cool bean. He tries to wear the right shades, to adopt their swagger and hairstyles. Yet, none are a fit for him. Although he used to hang out with the cool beans, now he feels like a has-bean. He snorts, he stumbles, he feels awkward and unpopular.
Yet one day, some cool beans show him some unexpected kindness. And our bean begins to wonder, "Does true 'coolness' actually come from the outward trimmings like sunglasses?"  Perhaps those things don't amount to a hill of beans.
Our everyday bean tries being kind to others.  He does nice things in his own way.  He likes it.  He explores hanging out with the cool beans and being alone and content with himself.  And he discovers his very own definition of being a cool bean.
This was a gentle and humorous look at accepting oneself and exploring one's place in the world.  And if you loved other books illustrated by Pete Oswald like The Good Egg and The Bad Seed, then this one is a must-see!