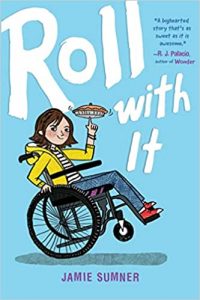 Roll With It by Jamie Sumner
Format: Book, Audiobook
Who it's for: Kids
Ellie has big dreams—she doesn't just want to be a good baker for a twelve-year-old, she wants to be a great baker, period. Sure, she's got her challenges—like the aide who has to follow her around the whole school day—but with good news from her doctor, things are looking up.
Then Ellie and her mom have to move so they can help take care of her grandpa, whose dementia is getting worse. Now she's the new kid at a tiny school, and the only one who uses a wheelchair. Ellie thinks she just might reach her breaking point—until the oddball neighbor kids become, unexpectedly, her friends. Find it in the catalog.