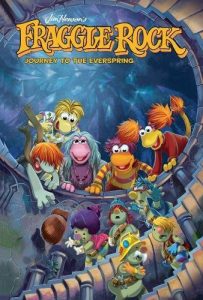 Jim Henson's Fraggle Rock: Journey to the Everspring by Kate Leth and Jake Myler
Format: eBook
Who it's for: Kids, Teens, Adults, Everyone
Dance your cares away! Worry's for another day! Let the music play! Down at Fraggle Rock!
If you're a fan of the Fraggles, you will love this graphic novel adventure. When a drought unexpectedly hits Fraggle Rock, our favorite Fraggle friends–practical Gobo, anxious Wembley, boisterous Red, mellow Mokey, and cautious Boober–must travel in search of the fabled Everspring, the source of Fraggle Rock's water supply. Their journey takes many twists and turns, as they avoid spooky creatures, discover the Crystal Caves, and meet a new and unusual colony of Doozers!
The story has themes of friendship, finding one's purpose, and environmental stewardship, and if you're thinking "The thing I love most about Fraggle Rock are the great musical numbers," well, this book has those too!
This Journey to the Everspring is fun for the whole family, and it's available electronically via Hoopla, along with other Fraggle comics! It's a great time to virtually hang out with the carefree Fraggles, so look them up in our catalog today.