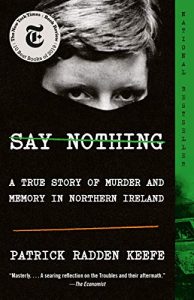 Say Nothing: A True Story Of Murder And Memory In Northern Ireland by Patrick Radden Keefe
Who it's for: Adults
Format: eBook, digital audiobook
Say Nothing begins with the abduction of widow and mother of 10, Jean McConville, in Belfast in 1972. From there, Radden Keefe traces several of the key players of the Troubles, the decades-long conflict in Northern Ireland between nationalists (often Catholic) who wanted to see Northern Ireland united with Ireland, and loyalists (often Protestant) who supported continued British rule in Northern Ireland.
McConville was one of the "disappeared," sixteen people who were determined to have been taken, killed, and buried in unmarked graves by the Provisional IRA (the IRA admitted to being involved in nine of the sixteen cases). But Radden Keefe's account is not just of McConville and her children. We also meet Gerry Adams, Brendan Hughes, and, most intriguing, the Price sisters, Delours and Marian, all members of the IRA (though Adams has denied his own membership in the organization). Radden Keefe describes hunger strikes, bombings, prison stays, and the gradual shift by some members of the IRA from violence to politics. This shift is an underlying theme of the story; some IRA members viewed the shift and the compromises made as removing the moral justification for the violent acts they had committed. This led to some of them speaking at length with interviewers for a Boston College oral history project. That project's history, and its legal battles and their outcomes are entwined in the story of the more recent events in Radden Keefe's account. 
Throughout the book, Radden Keefe returns to Jean McConville, and to her children and their lives after their mother's abduction. Many of the others discussed in the book were leaders of or soldiers in the IRA, so McConville's children provide a different view of the Troubles and the events discussed in the book.
Say Nothing often reads like fiction, but it's not. Every so often, the realization hits that these people are real, many of them still living and dealing with the trauma of their experiences. Radden Keefe has thoroughly researched this story, taking four years to conduct research and interviews, leading to a fascinating true account of events that occurred not that long ago.
You can find Say Nothing in eBook and digital audiobook format on OverDrive/Libby, or in digital audiobook format on RBdigital.