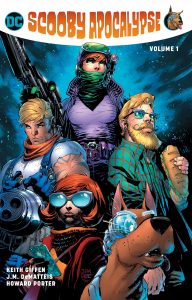 Scooby Apocalypse Vol. 1 by Keith Giffen, J.M. DeMatteis, and Howard Porter
Format: eBook
Who it's for: Adults, Teens
It's everyone's favorite meddling kids, re-imagined for a new generation. Meet:
Daphne Blake, host of a low rated cable TV show investigating supernatural phenomenon.
Fred Jones, Daphne's loyal camera man, who has carried a torch for her for years.
Norville "Shaggy" Rogers, dog trainer for a mysterious science lab called The Complex.
Scoobert "Scooby" Doo, prototype of a Complex experiment to create intelligent dogs to serve in the military.
And Dr. Velma Dinkley, top scientist at The Complex, and maybe the world's only hope at stopping an experiment gone wrong that's turning the human race into monsters.
This unlikely gang traverse the land in a literal Mystery Machine (What is the actual purpose of this armored van they escaped The Complex in?) trying to survive… The Scooby Apocalypse.
This dark reboot of the Scooby-Doo franchise is fun for new and legacy fans alike. It's the end of the world as they know it, but you'll feel fine, when you check out Scooby Apocalypse on Hoopla right now!