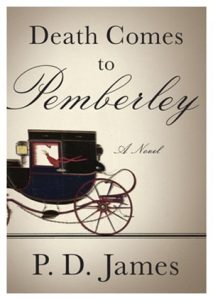 Death Comes to Pemberley by P.D. James
Format: eBook, digital audiobook
Who it's for: Teens, Adults
Have you read Pride and Prejudice? Pride and Prejudice is the foundation of Death Comes to Pemberley.
Six years have passed. Elizabeth and Fitzwilliam Darcy have two young sons. Jane and Charles Bingley have twin girls and a son. Darcy's sister Georgiana has "reached her majority." Two men want to court Georgiana. One is Fitzwilliam, Darcy's military cousin. The other is a young lawyer, Henry Alveston.
The Darcys, Bingleys, Fitzwilliam, and Alveston have just finished dinner at Pemberley. Fitzwilliam departs on horseback for some fresh air. A carriage careens to a stop in front of Pemberley. Elizabeth's sister, Lydia, bursts out of the carriage, wailing that her husband, Wickham, is dead in the Pemberley forest. Elizabeth draws her sister inside to console her. Fitzwilliam returns. He commandeers the male guests and some servants to form a search party.
In the forest, they encounter George Wickham in a clearing, leaning over the bloodied body of his military companion, Martin Denny. "I killed him!" cries Wickham. Fitzwilliam and Darcy carry Denny's lifeless body out of the forest on a stretcher. Alveston and a servant accompany Wickham back to Pemberley.
Lydia, Wickham, and Denny had traveled together in the carriage to deliver Lydia to Pemberley as an unexpected guest. Wickham, unwelcomed at Pemberley, would travel on with Denny. At the edge of the forest, Denny cried, "I won't do it!" He jumped out of the carriage and plunged into the forest. Wickham ran after him. Shortly thereafter, Lydia heard gun shots from deep in the forest.
Did Wickham commit murder? Was Fitzwilliam's horseback ride suspicious? What wouldn't Denny do? Who else may have killed Denny? Death Comes to Pemberley spins a murder mystery that is true to the characters of Jane Austen's novels. For all who love the works of Jane Austen as well as mysteries, this is a worthwhile read.