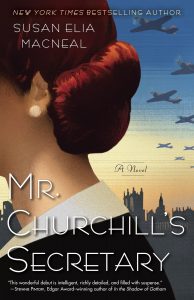 Mr. Churchill's Secretary by Susan Elia MacNeal
Format: eBook, digital audiobook
Who it's for: Adults
Maggie was looking forward to graduate studies in math at MIT.  When her grandmother passed, Maggie had to return to the land of her birth: England.  She planned to sell her inheritance: a big old Victorian house. Yet, with the war underway, it was no time to sell. Instead, Maggie welcomed boarders and friends: Irish Chuck (Charlotte), ballerina Sarah, stylish Paige, and the "Ding-bell" twins, Annabelle and Clarabelle.  Slowly, Maggie would fix-up the aged house.
One night, a young woman missed her bus and so walked home. On the way, she was murdered. David, a personal secretary to Churchill, urged his friend Maggie to apply for the dead woman's job. So, Maggie joined the typing pool in the Prime Minister's office. She longed for a more mathematical challenge. Yet, soon she had her hands full. Someone set off a bomb in a nearby train station. Was it the IRA? Also, when Maggie found some dots and dashes in the newspaper, she suspected that she had stumbled on more than an ad. Could Maggie break the code? With terrorists and spies underfoot, could Maggie help her friends and homeland before it was too late?
For all who love historical stories of suspense, this is the ticket.  And it's the first book in a series!