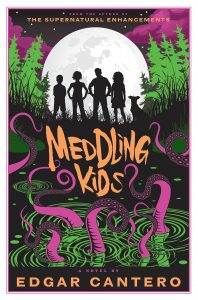 Meddling Kids by Edgar Cantero
Format: eBook, Book
Who it's for: Adults
In 1977, a group of precocious kid detectives and their dog solved the case of the Sleepy Lake monster. The culprit turned out to be, as was common in their cases, an old man in a mask. He would have gotten away with it too, if it wasn't for those meddling kids!
Years later the "Blyton Summer Detective Club" are all grown up, but only barely functioning. One committed suicide, one is a college drop out, one has been in and out of jail, and one has been in and out of psychiatric wards. Turns out they've all been haunted by the Sleepy Lake monster case. The truth is: they didn't actually solve it. Yes, there was a masked man in the abandoned mansion on Deboen Isle, but there were also real live monsters that permanently unsettled them, and they've had enough. They are reuniting to solve the case once and for all.
When they return to their charming hometown in the Pacific Northwest they find it's not as idyllic as their childhood memories. Otherworldly horror lurks around every corner, and only they, and their loyal dog (twice removed from their original dog), can stop it.
This book is basically Scooby-Doo meets H.P. Lovecraft meets Twin Peaks and I thought it was great. The writing style is unique, laden with meta references to popular kid detective and classic sci-fi tropes. If you love stories about young detectives, Lovecraftian horror, or small towns where things are not as they seem, you should definitely check this out from the library, or electronically on OverDrive, today!