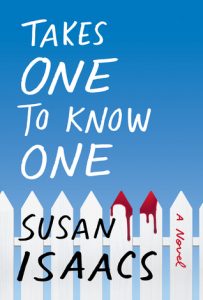 Takes One to Know One by Susan Isaacs
Format: eBook
Who it's for: Adults
After fifteen years with the FBI, Corie was ready for some stability.  Enter Josh Geller:  tall, handsome, green-eyed.  Lawyer turned federal judge, Josh was rich and yet humble.  What was not to love?  Yet meeting Josh's daughter Eliza sealed the deal.  "Teach me how you flip open your FBI badge," she'd said.  Eliza didn't remember her mom, who'd died suddenly years before.  She took to Corie easily.  The three of them settled down to married life together.
Corie freelanced part-time for three publishing companies.  She previewed modern Arabic works to translate to the English market.  She also met for lunch on Wednesdays with a group of home-based entrepreneurs.  Phoebe resold on E-Bay, Iris ran the Moveable Garden, Pete marketed packaging, Marcalynn wrote Republican speeches, John did landscaping drains, and Darby retouched photographs.  Corie let the others assume that she'd always been in publishing.  There was no need to blow her cover.  This kept her open for contract work with the FBI.  Only Corie's family and best friend, Wynne, knew of her true history.
One day, Corie noticed that Pete might be more than he seemed.  Why did Pete always scout out his surroundings?  Why was he hiding his muscular physique under baggy, nondescript clothing?  Why had he hidden and then keyed someone's car?  Was Corie reading into things?  Could you take the girl out of the FBI but not the FBI out of the girl?
This fast-paced mystery reminded me of the Stephanie Plum series.  Like Stephanie, Corie jumped out of the frying pan and into the fire.  Likewise, the characters were very distinctive, such as Corie's melodramatic actress mother.  Yet unlike Evanovich's books, Susan Isaac's novel had a more serious, sophisticated tone.  Had Corie found the life she loved and, if so, was she willing to risk it all?