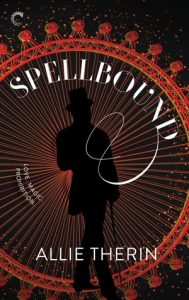 Spellbound by Allie Therin
Format: Hoopla
Who it is for: Adults
Arthur (Ace) Kenzie leads a double life. By day he is the son of a prominent politician and a member of the upper class. By night, he works with his paranormal friends to save the world from the supernatural relics that could cause the destruction of mankind. A new relic has appeared and Ace needs someone who can see into the past to keep the relic from causing havoc. Rory, the grumpy, young, and extremely powerful paranormal fits the bill. However, the last thing Ace needs is to fall for this grouchy but very handsome young man. 
If you are looking for an incredibly sweet paranormal romance set during prohibition in the heart of New York, Allie Therin's delightful book absolutely fits the bill. Filled with mystery and longing looks, Spellbound is a wonderful escape. Find the audiobook on Hoopla.