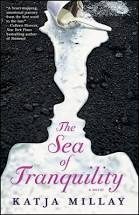 Title: Sea of Tranquility by Katja Millay
Recommended: for Adults
Format: ebook and book
Josh and Kastya locked eyes across the school courtyard. He was sitting perfectly still, perched on top of the back of a bench. She was quickly crossing in her stiletto heels and short black dress. Was her heavy make-up and kohl-lined eyes a mask she hid behind? And why did Josh sit alone when all the other school benches were full? Did he have an invisible shield around him that said "leave me alone"?

Josh's best friend Drew also noticed Kastya. He pulled all his best lines and winning smile on her. Was that a slight smile on her face? She seemed more amused than beguiled by his pretty-boy routine.

Josh, Nastya, and Drew gradually formed a friendship. Was there a spark of interest between two of them? And, if so, could love bring healing to two, perhaps three, hurting souls?

Although this story was steeped in teenage angst and, at times, crudity, I was touched by this tale of friendship, love, and hope.

And it's available in book and ebook!