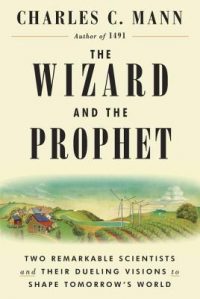 The Wizard and the Prophet: Two Remarkable Scientists and Their Dueling Visions to Shape Tomorrow's World by Charles C. Mann
Format: Book
Who it's for: Adults
How should we feed and provide power to the growing world population? Many debates about this question come down to two conflicting beliefs. We all need to cut back or else everyone will suffer when we hit our ecological limits! says one side. No, we need MORE people doing MORE innovating, and technology will let us overcome all problems! counters the other.
People who espouse the former sentiment, Charles Mann argues, might be called "Prophets", warning of doom unless we change our ways. The latter, techno-optimist point of view is held by "Wizards", contending that the magic wand of technology will cause any apparent limits to evaporate.
In The Wizard and the Prophet, Mann examines the lives of two twentieth-century scientists whom you may never have heard of, but whose opposing views came to dominate our current discussions of pressing environmental and humanitarian problems. He uncovers the development of William Vogt's prophetic beliefs and Norman Borlaug's wizardly notions, then demonstrates how their philosophical descendants approach some of the conundrums facing humanity: sufficient food, adequate water, energy generation, and climate change.
Find it in the catalog, check it out, then supply yourself with both a dictionary and an open mind as you read this book. Mann will introduce you to both some new words (perfervid, anyone?) and some new thoughts about the key issues of our time.