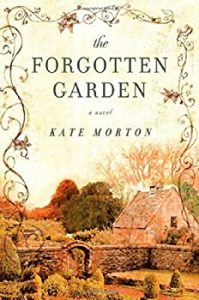 The Forgotten Garden by Kate Morton
Format: Book
Who's it For: Adults
A four year girl is found with a suitcase and a fairy-tale book on the wharf in Australia in 1913. She can't remember her name. A wharf worker tries unsuccessfully to find out where she's from. Eventually he takes her home where he and his wife raise her as their own.
At Nell O'Connor's 21st birthday her father confides the truth about her origins. It devastates Nell and she feels a sense of loss and abandonment.
When Nell's father dies in 1975 he bequeaths her the little white suitcase with the mysterious book of fairy-tales by Eliza Makepeace. Nell decides to trace her parents through Eliza whom is referred to as the "Authoress". The search takes her to Cornwall where she finds Eliza's home Cliff Cottage. There memories are triggered and Nell discovers she is the daughter of American artist Nathaniel Walker and aristocrat Rose Mountrachet, who were killed in a train crash in 1913. On impulse Nell buys the cottage. But upon her return to Australia, Nell's young granddaughter Cassandra comes to live with her.
Years later Cassandra is suffering from a tragedy in her life when Nell passes away and she inherits the cottage she didn't know anything about. Cassandra regards the mystery of Nell's past to be her true inheritance and sets off to Cornwall to find out why Cliff Cottage mattered so much to her grandmother.
The novel spans more than a century between 1900 and 2005 and enfolds in a narrative not in chronological order between the three main character. Nell O'Connor 1913-2005, Eliza Makepeace 1900-1913 and Cassandra O'Conner 1975-2005.
This novel pays homage to the book, The Secret Garden by Frances Hodgson Burnett and the story explores and examines family secrets, loss, survival, what home truly means, and love.
Find it in the catalog