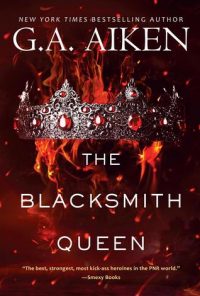 The Blacksmith Queen by G.A. Aiken
Format: Book
Who it's for: Adults 
Keeley Smith loves her life. She has the best family. She gets to work at her beloved blacksmith forge every day. She is strong (very strong) and she gets to spend her days doing what she loves with the people she loves. So when a prophecy suggests that Keeley's extremely smart, though odd sister, Beatrix, is destined to be the next queen, Keeley knows she will do whatever she needs to do to protect her sister. But as it often happens in games of political intrigue and the making of kings and queens, nothing is what it seems. Keeley will have to fight for her life and that of her family while also fighting to save the kingdom she calls home. 
G.A. Aiken creates a world filled with magic, battles, betrayal, true love, and a heroine you will want to cheer on at every turn. Keeley Smith is not entirely sure she is destined for greatness, but as you read the story, you will have no doubt that she is. The Blacksmith Queen is the first book in a new series by G.A. Aiken. Find it in the catalog.