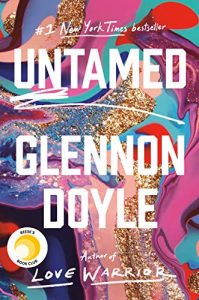 Untamed by Glennon Doyle
Format: Book, Ebook, Overdrive Audio
Who it's for:  Adults
Glennon Doyle is the author of a blog and two best-selling memoirs, a public speaker, and the founder of a nonprofit organization Together Rising. These accomplishments show that she is a successful woman, but Untamed her third memoir, shows that Doyle is a painfully honest woman as well.
Doyle begins the first chapter of her book describing a trip to the zoo with her children. While there, they watch a cheetah who has been trained to chase a stuffed bunny like a dog.  Watching this performance presents Doyle with the sudden insight that her life as a woman has been like that cheetah's.  She realizes that she has spent her entire life feeling "caged" and trying to be loved by doing what she has been "trained" to do.
In Untamed, Doyle explains how she finally broke free of feeling caged.  She empowers all women, through her incredible insight and experiences, to find their own version of humanity and follow it.  Doyle encourages women to trust their intuition and to "find what makes your heart ache and follow it".
As you read this book you'll find yourself highlighting inspirational quotes and stories that you'll want to refer back to later.  You will experience the art of a great storyteller and her willingness to break free of cultural norms in order to establish a life that works best for her and her children.  I listened to this book through RB Digital and found that I wanted to check the hardback copy out as well, just so that I could re-read some of the most inspiring parts.
In Untamed, Doyle teaches us what it means to be brave enough to abandon what the world expects of us instead of abandoning our true selves.  Doyle challenges women to ask themselves "What do I love? What makes me come alive?, What is beauty to me, and when do I take the time to fill up with it? Who is the soul beneath all of these roles?"  Those are great questions for all of us to ponder.