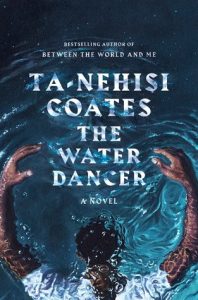 The Water Dancer by Ta-Nehisi Coates
Release Date: September 24th, 2019
Format: Audiobook
Who it's for: Adults
The Water Dancer is truly a book like no other. Narrated by Joe Morton (a.k.a Papa Pope on the tv show "Scandal"), this book takes you on a fictional, yet relevant journey through Hiram's life as a slave. Hiram is the enslaved son of a plantation owner who was gifted with the ability to remember everything, and with the ability of conduction. However, he can't remember the most important thing in his life, his mother, who was sold to another slave owner when Hiram was nine years old. As Hiram grows up and serves his half-brother, one crash in the water changes his life and perspective as a slave, and as a man. Coates writing mixed with Morton's narration creates emotions for the listener like no other. As Morton tells the story, you can hear the passion and determination of the characters in his voice! When listening to this book listeners will feel like a connection to the slaves who not only felt the physical pain of slavery, but the psychological pain as well. This audiobook kept my attention from beginning to end. I highly recommend it. Find it in the catalog.