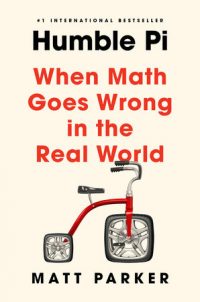 Humble Pi: When Math Goes Wrong in the Real World by Matt Parker
Format: Book, eBook
Who it's for: Adults
What do you get when you cross a stand-up comedian with a math enthusiast? You get Matt Parker, and his chuckle-inducing book Humble Pi. Math typically works quietly behind the scenes of life, ensuring that your internet works, your train runs smoothly on its tracks, and the calendar marches steadily onward…until, suddenly, it doesn't.
Parker reveals the math mistakes behind some of the world's most spectacular failures, from a bridge collapse to a stock market meltdown to an election debacle. For an entertaining tour through humanity's mathematical stumbling blocks, find it in the catalog.