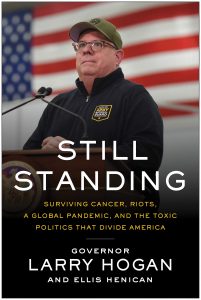 Still Standing by Larry Hogan and Ellis Henican
Format: Book, eBook, eAudiobook
Who it's for: Adults
What do you know about Governor Larry Hogan? You may have heard during his six years in office about crises like the death of Freddie Gray in Baltimore, managing the COVID-19 pandemic, and his personal battle with cancer. You may have read news stories about bipartisan agreements on economic and justice department reforms during his tenure. Now you can go behind those headlines and get the inside story in Larry Hogan's recently released autobiography.
In an era of political divide, Larry Hogan offers a refreshing approach to practical problem solving that focuses on listening, being respectful, and working on the problem at hand for the benefit of the people rather than promoting a political party or agenda. We need more voices like this on the political landscape today.