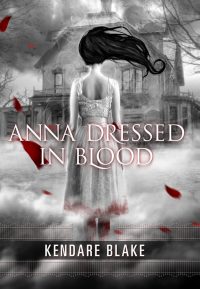 Anna Dressed in Blood by Kendare Blake
Format: Book and Eaudiobook
Who it's for: Teens
Tis the spooky season, which I believe calls for something about the things that go bump in the night. I found that in Anna Dressed in Blood by Kendare Blake. It is the first of its ghostly series, and put eloquently: "It's the old boy-meets-girls story. if the boy is a wry, self-destructive ghost hunter bent on avenging his father and the girl is a homicidal ghost trapped in a house full of everyone she's ever murdered." – Holly Black, New York Times bestselling author of Red Glove.
It's perfect for people who want a light and easy paranormal read that happens to be a teen urban fantasy, rather than a teen urban fantasy that has paranormal elements. I like ghost stories, and while this one isn't particularly scary (in my opinion. You may find otherwise.), it does manage to be fun, full of magic, a bit of mystery, and interesting characters. Find it in the catalog!