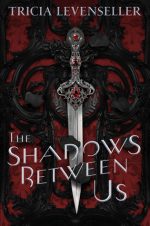 The Shadows Between Us by Tricia Levenseller
Format: Book
Who it's for:  Young Adults, Adults
Alessandra is the second daughter and must wait until her older sister is engaged before she can attend any royal social gatherings.  While she waits for her turn, she plots.  She wants to marry the Shadow King and then kill him so that she can take over the kingdom.  She plans how she is going to catch the eye of the King – what she will wear and how she will act.  When she does, she soon learns that she is not the only one trying to kill him.  She gets to know him and even begins to like him.  Liking the King was not part of her plan.
Alessandra is not your ordinary noblewoman.  She likes to design her own outfits and she doesn't follow society's rules.  She does as she pleases which includes having some relationships before she is married.  She is determined to do her own thing and her goal is to change the way women are made to follow the rules made by men.  And, if someone displeases her, she just might kill them.
Someone on Good Reads described this as a "Slytherin Romance" and I think that is a good description.  You want to hate Alessandra because she is so unapologetically evil, but you like her anyway.  She knows what she wants and she is going to get it!
Find it in the catalog.