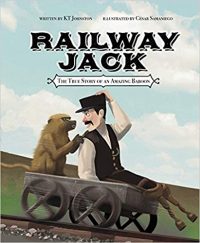 Railway Jack: the True Story of an Amazing Baboon by KT Johnston, illustrated by Cesar Samaneigo
Format: Book
Who It's For:  Kids
Railway Jack is the true story of South African Railway employee Jim Wide and the baboon who became first his service animal, then his best friend.
Long, long ago Jim Wide worked as a railway inspector for South African Railroad, but after he lost his legs in an accident, he couldn't do that job anymore. Jim got a new job as a railroad signalman, the person pulling the levers that switch trains to the right tracks for their journeys. He made a cart to sit on which helped him get to work and inspect the switches, and with his new wooden legs he could stand and walk a bit. But Jim struggled to do some tasks by himself, both at home and at the station. He needed help, but what could he do?  He bought a baboon of course, a very intelligent baboon named Jack! Jack learned fast and worked hard, quickly mastering water-pumping, taking out trash and sweeping floors. He pushed Jim's cart to the station morning and evening, jumping on the back for a ride down the hill!  Amazingly, Jack even began to recognize train signals and learned which lever to pull to switch the trains. However, one day a passenger was horrified to see a "monkey" pulling levers at the station and reported them to the railroad. The railway sent a man to investigate, who tested Jack carefully. Would he pass? Would Jim and Jack get to keep their jobs or be fired? Find out when you read Railway Jack: The True Story of an Amazing Baboon.