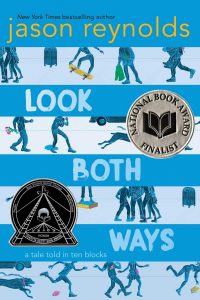 Look Both Ways: A Tale Told in Ten Blocks by Jason Reynolds
Format: Book, eBook, Digital Audiobook
Who it's for: Kids
Look Both Ways: A Tale Told in Ten Blocks by Jason Reynolds tells the story of ten different middle school students walking home from school and their adventures on ten different blocks. Each kid is dealing with their own struggles and are caught up in their own lives. So much so that no one sees the school bus falling from the sky. This  poignant story demonstrates how everyone is following their own path, home from school and in life.
I love Jason Reynolds, and I love this book. From a girl who just wants to skateboard but who is confronted by bullies, to a young boy hustling pennies so he can buy ice cream for his mom, this book includes small, slice-of-life tales from a variety of different point-of-views. It really demonstrates that everyone is going through something. Even the toughest boy in school has problems he is struggling with at home. Even the funniest girl in class is using humor to comfort herself and her family. Everyone in the story is connected. It was fun to hear about the same small moments told from different perspectives and hear small comments about characters from previous chapters.
I would highly recommend listening to the audiobook of this title. It has a full cast, and it really makes the story come alive and captures your attention.
Because the most important question still remains: did anyone see that school bus fall from the sky?