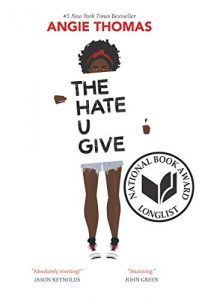 The Hate U Give by Angie Thomas
Format: Book, eBook, Audiobook, eAudiobook.  Movie version available DVD or Blu-Ray
Who it's for: Adults, Teens
Sixteen year old Starr is living a double life.  One Starr lives in a black, lower income neighborhood and feels like she doesn't quite fit in.  The other Starr attends a private, mostly white school and feels like she can never quite be herself.
One night, Starr is riding in a car with her childhood friend Kahlil when they get stopped by police. After a short but tense exchange, Kahlil is fatally shot leaving Starr as the only witness.
A whirlwind of events send Starr's two worlds crashing into each other so she is left with no choice but to find her voice and decide who her one true self is and what she stands for.
The audiobook was amazing and the movie was a very good adaptation of the book although they did have to condense some characters.  I read the book first and it helped to better understand some parts of the story that I might have missed otherwise.