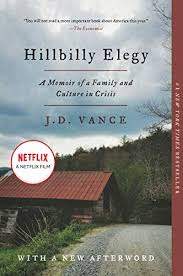 Hillbilly Elegy by J.D. Vance
Format: Digital audiobook
Who it's for: Adults
J.D. Vance grew up in the Rust Belt town of Middletown, Ohio.  He is the grandson of a poor, uneducated couple who left their Appalachian roots at a very young age for a better life in Ohio.
Although part of the white middle-class in Ohio, J.D.'s family could never quite escape the Appalachian stereotype described as "uneducated and prone to impulsive acts of violence".  Life for J.D. and his family was chaotic and dysfunctional, fraught with the social problems of his hometown including alcoholism, drug addiction, and constant money problems.
J.D.'s family struggled like many working-class American families from small towns do.  But J.D. was fortunate.  He had the constant love and support of his grandmother and extended family members. J.D.'s grandmother taught him that working hard matters as well as taking responsibility for one's choices.
Hillbilly Elegy is J.D. Vance's story of surviving the dysfunction of white working class America to become a graduate of Ohio State University and Yale Law School.  It is his own explanation of how the Appalachian values passed down from his grandparents actually helped him survive the stigma of the poor American and taught him that if he worked hard enough, he could make it.
The audio version of this book is narrated by the author.