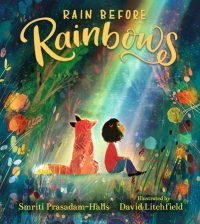 Rain Before Rainbows by Smriti Prasadam-Halls, illustrated by David Litchfield
Format: Book
Who it's For: Kids
This book is so hopeful and uplifting! Life has its share of good days and bad, and there is a time for everything. Sorrow and joy, dark and light, loss and abundance, planting and harvest. This simple rhyming tale of a Girl and her friend Fox chronicles their journey from troubled times to a new and meaningful life. They must pass through darkness, storms and worry, but with help and inspiration from friends, hopeful dreams and wise words to live by, Girl and Fox finally find their bright new morning.
In challenging and uncertain times, Rain before Rainbows is a perfect story for helping little ones to learn that "this too shall pass" and that better days lie ahead. You will love the gorgeous illustrations too!