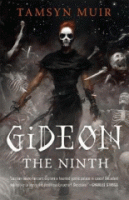 Gideon the Ninth by Tamsyn Muir
Format: Book
Who it's for: Adults
Gideon the Ninth, book one of The Locked Tomb Trilogy, is a wild ride. The book is dark, imaginative, and fresh. Part fantasy and part science fiction, the book follows the heirs of the Nine Houses who have been selected by their god, the King Undying, to take part in a trial to join his group of immortal Saints and their personal knights, or Cavaliers.
The main character of the novel is Gideon, an indentured servant of the Ninth House, who is more comfortable with a sword than necromantic magic. Gideon has spent her entire life trying to escape the frozen planet of death where she was raised, and her future of eternal servitude as a reanimated skeleton.
Her chance arrives when her childhood rival, enemy, and ruler, Harrow, the Reverend Daughter of the Ninth House and greatest bone witch to be born of the Ninth House, forces her to serve as her Cavalier. Gideon must protect and serve Harrow during the trial. If Harrow succeeds, she becomes an immortal disciple of the King Undying, and Gideon earns her freedom. However, Harrow and Gideon must first keep from murdering one another.
The book is both dark and hilarious. Who knew violence, tragedy, and a whole lot of bones could be so funny? It is also one of the best examples of enemies to…well, something approaching love at least.
Necromancers in space, what more can I say?
The second book in the trilogy, Harrow the Ninth, came out in August 2020.
Find it in the catalog.