The New Year, a time to reflect on what has passed and to celebrate new beginnings, is just around the corner! How do you celebrate? These vibrant and lively stories offer a doorway inside two young girls' celebration of family culture and tradition.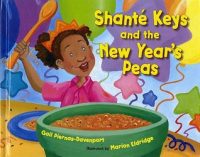 Shante Keys and the New Year's Peas by Gail Piernas-Davenport
Format: Book
Who it's For: Kids
We set out with Shante on her quest to find the missing ingredient for her family's New Year tradition.  Told in rhyme, this mission unfolds on the streets of Shante's neighborhood but ultimately becomes a journey through the cultures and traditions of her neighbors too. By the end of the story,  it's clear she can experience the beauty of the wide world just by looking at what makes the people she sees everyday unique.  What I love about this story are the underlying messages of diversity, community, teamwork and sharing! Also, included at the back of the book are a fun recipe to try at home and a resource for the cultures of other countries, their traditions and celebrations.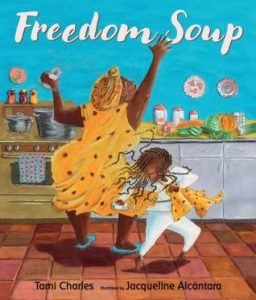 Freedom Soup by Tami Charles
Format: Book, DVD, Digital Audiobook, Digital Movie
Who it's For: Kids
In this story, we meet Belle and her Ti Gran as we are dropped into their gloriously delicious adventure in cooking set against a backdrop of their Haitian history.  The dynamic and bright pictures dance off the page taking us with them. You can almost feel and taste the freedom Ti Gran talks about while she cooks.  Luckily for us, the recipe for Freedom Soup is in the back of the book!   And as an extra tidbit, the author offers up a little information about the real Ti Gran as well!
Find it in the catalog and on Hoopla as an audiobook or streaming video.