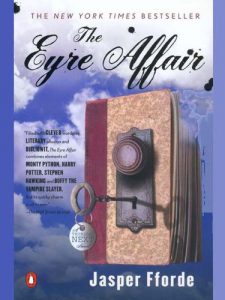 The Eyre Affair by Jasper Fforde
Format: Book, eBook
Who it's for: Adults
The Eyre Affair introduces Thursday Next, a literary detective living in a parallel universe with a time traveling father and an uncle experimenting with literal bookworms. Thursday works for SpecOps 27, the division that investigates manuscript forgeries and other literary crimes. The Eyre Affair sees Thursday battling with literary villain Acheron Hades. Hades has stolen the Prose Portal, allowing him to enter manuscripts and kidnap characters for ransom. He starts with Martin Chuzzelwit, but his ultimate goal is to remove Jane Eyre from the pages of Jane Eyre. If he succeeds, Jane will be removed from all copies of the novel. It's up to Thursday to stop him and save Jane Eyre. 
The first book in the Thursday Next series (there are seven in total), The Eyre Affair immerses the reader in Thursday's alternate universe. The Crimean War never ended, Russia still has a tsar, and cloning animals is widespread (Thursday's pet is a dodo v1.2 named Pickwick). This sets the stage for the rest of the series – we learn in the second book about the BookWorld, occupied by literary characters with its own police force (Jurisfiction). 
For readers with an interest in classic literature (Fforde constantly drops in references to classic novels and poems) and inventive, sometimes absurd alternate realities, The Eyre Affair is a fun and exciting introduction to a great series.