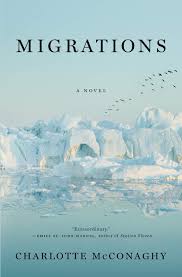 Migrations by Charlotte McConaghy
Format:  Book
Who it's for:  Adults
Picture a future where most animals have become extinct.  Scientists are studying how to keep those remaining from complete termination.  The answer may lie with the Arctic terns.  Franny Stone is convinced of this truth.  To prove it to herself, Franny has made her way to Greenland with the goal of talking a fishing crew into following the terns on their last migration.  If Franny can get the crew to follow the terns that she has been able to catch and tag, she is convinced that the fishermen will find the fish they desperately need to support their livelihood, and Franny will prove her theory.
Here the mystery begins.  As the crew attempts to follow the terns through frigidly calm seas and unrelenting storms, the reader learns about the dangers of daily life on a fishing vessel, and Franny's past life. One becomes intent on trying to figure out just who Franny is and what she has left behind.  The author describes Franny in the perilous present and then shifts to the past to explore who Franny was as a child, teenager and adult.  Why are the terns so important to her?  What is Franny running from? Why was she in jail? Where are her parents? Where is her husband?  Will the crew survive their dangerous journey? Will the terns survive their migration?  Will it be their last? The listener hangs on to the author's every word until all answers are revealed in the story's thrilling conclusion.