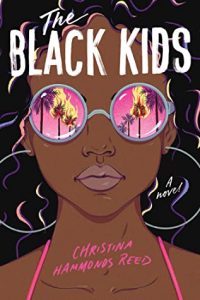 The Black Kids by Christina Hammonds Reed
Format: Audiobook
Who it's for: Teens, Adults
"The Black Kids" by Christina Hammonds Reed is a beautifully written, heart wrenching coming-of-age story that covers so many heavy topics. Though it occurs in 1992, the topics and life lessons learned are just as relevant almost 30 years later. In "The Black Kids", Reed explores the trauma of growing up Black and interacting in predominantly white circles. Reed tackles the concept of respectability politics surrounding the African American community.
The Black Kids, in my opinion, perfectly captures many aspects of high school life. Most of us have experienced the awkward transition from childhood to adulthood and how that transition affects our long-standing friendships. Teenagers put up with a lot more from people we've known a long time versus those we just met and that wears down on one's existence. The growing pains that Ashley, her friends and family members experience throughout the book allows you to relate to at least one of the characters in this book. This was great read and kept me intrigued as to what will happen next.