Title: Thirteen Little Blue Envelopes and The Last Blue Envelope by Maureen Johnson
Format: ebook and book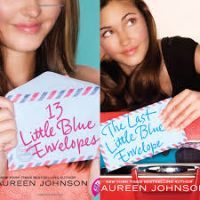 Who's It For: Teens and Adults
Aunt Peg was dead. Ginny Blackstone hadn't seen her aunt in a few years. Aunt Peg had spontaneously gone off on an adventure in Europe. However, Ginny received a bundle in the mail from her aunt containing thirteen blue envelopes. Aunt Peg had prearranged a trip for Ginny to Europe. Yet, Ginny had to follow her aunt's rules as laid out in the first blue envelope. No phones, no emails. Aunt Peg provided a bank card, the funds for Ginny's summer adventure.

In Thirteen Little Blue Envelopes, Ginny followed her aunt's itinerary as explained per envelope.  She could only progress on the next leg of her journey when she completed the assigned task of the previous one.  So, throughout the summer, Ginny met a host of people, including an eccentric artist, a kindly manager at Harrods, zealous tourists, and welcoming hostel travellers.  She experienced London, Paris, Italy, and Amsterdam.  Along the way, Gin met Keith, a budding actor and college student.  Lanky and quirky, Keith became interested in Ginny and her unusual quest.  By the end of the summer, they weren't boyfriend/girlfriend but, as Keith said, "something in-between."
In The Last Little Blue Envelope, Ginny returned to England.  Although her backpack with the letters had been stolen, a tall brooding young man named Oliver had recovered them.  Gin was reunited with Keith, and she met Oliver and a friendly young woman named Ellis.  They journeyed together to complete the quest of the thirteenth envelope.  On the way, Ginny discovered more about love, friendship, family, and herself.
If you're looking for a lighthearted tale with a personal journey, this duet could be the ticket.
Find Thirteen Little Blue Envelopes here.