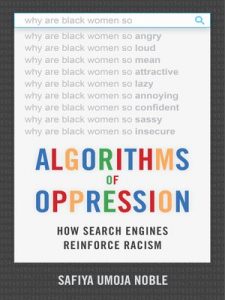 Algorithms of Oppression: How Search Engines Reinforce Racism by Safiya Umoja Noble
Format: Book
Who it's for: Adults
If I asked you how you search for information, I bet your answer would be: "I Google it!" Safiya Umoja Noble's book makes you take a long, hard look at how you find information, and who you trust to give you that information.
The author challenges the common belief that results are presented based on unbiased relevance.  She examines the algorithms that control the results, and discusses how the people who write those algorithms own biases can impact the results. The authors considers how racism and sexism are reinforces through these "algorithms of oppression" and why we should be critical of the search engines that have a monopoly on our information seeking habits.
This non-fiction book analyzes internet search results, focusing especially on Google, and what goes on behind the scenes to get you the results you see. You will never look at your search results the same way again.