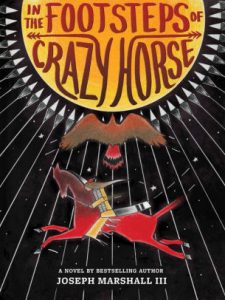 Get ready for a road trip!
Jimmy and his grandpa, both Lakota Native Americans, travel together one summer through what is now South Dakota, Nebraska, Wyoming, and Montana to walk in the footsteps of their famous ancestor, Tasunke Witko, who is better known to us as Crazy Horse.
The pair drive, hike, and camp to explore the full life of a boy who grows into a leader as the grandpa teaches Jimmy about the man behind the legend.
Walk along with them through Crazy Horse's boyhood home, the hunting plains, Army forts, and battle sites as they uncover this story of life, love, war, hope, and heartbreak.
Joseph Marshall III, historian and storyteller, has written several nonfiction books for adults and now offers this children's book to engage young readers in the rich history of indigenous people. Note: This book includes details of battles and forceful displacement.