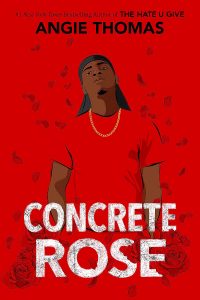 Concrete Rose by Angie Thomas
Format: Audiobook
Who it's for: Teens, Adults
Angie Thomas has taken up back to Garden Heights in Concrete Rose. Concrete Rose is the prequel to The Hate U Give in where we follow the life and growth of Maverick Carter. Maverick is a 17-year-old who is determined to take care of his family while his dad in prison. The only way Maverick thinks he can do this though is by dealing drugs. Maverick's world turns upside when he discovers that he has a son – Seven. This book will entertain you and keep your attention. It also strongly highlights the struggles that young Black men face. They are constantly being judged as soft by their peers if not showing aggression or anger as a response. It's difficult for Maverick to overcome his struggles and make the right decisions when the expectations of failure are so high. I listened to this book on audio and the narrator, Dion Graham does a great job with making you feel like he is having a conversation with you, versus only reading a book.