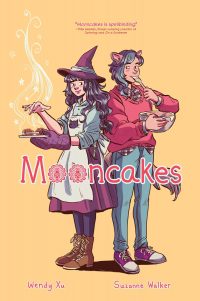 Mooncakes by Suzanne Walker (Author) & Wendy Xu (Illustrator)
Format: Graphic Novel
Who's it for: Teens & Adults
Mooncakes is a paranormal graphic novel following two Chinese-American childhood best friends, Tam Lang, a werewolf, and Nova Huang, a hard-of-hearing witch, as they reconnect, fall in love, and solve a mystery. The illustrations are adorable, the plot is inclusive, and here is a ton of every day representation mixed in amongst the magical, the bittersweet, and the fantastical.
It's a cute and fun read, if really predictable; It is not especially deep, so it may suit someone looking for something quick and light. Not only is it a story about a romance, but also about the importance of a supportive family, blood or found.