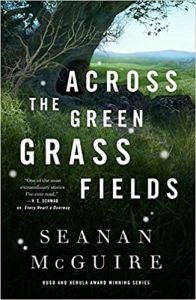 Title: Across the Green Grass Fields by Seanan McGuire
Format: Book
Published: January 12, 2021
Who it's for: Adults and Teens
As with the previous 5 books in the Wayward Children series, this next novel is beautifully written in such a way that draws the reader into a fantasy world that is tempting and beautiful, but always expects more of its inhabitants than meets the eye.
Young Regan is growing up, and her parents have decided that now is the time to tell her about her genetic identity. As she grapples with this news, she hopes that she can trust Laurel with this really big secret about herself. She can't. Regan runs to the woods between school and home, and stumbles across a strange doorway. It beckons her, but is she sure that she wants to enter? As she passes through the twisted branches, she enters Hoofland, and leaves her world behind. The supposed mythical, but very real, centaurs explain that the appearance of a human in their world means that "something's coming"; and Regan will be expected to be a hero.
Across the Green Grass Fields is a stand alone novel in The Wayward Children series, introducing a new character. If you are curious about the first book, check out this previous blog post by Tess.
This series can be found in the adult fiction collection, but the stories will be loved by teens as well.
Find it in the catalog