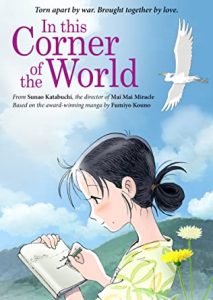 In this Corner of the World
Format: DVD, Digital Movie
Who's it for: Adults and Teens
In this Corner of the World takes place against the backdrop of Japan during the late 1930s and early 1940s, following the life of young woman growing up in World War II era Japan. The film's style is lovely and light, almost like a watercolor, which is in stark contrast to the brutal reality of life during the war depicted in the film. The main character, Suzu Urano, is a sweet, hard working girl who loves art. As the movie progresses, so to do the years and the war. At 18 she is asked to marry a man she does not know, and after the marriage Suzu moves from Hiroshima to the small town of Kure where her husband's family lives.
As the war continues, and the families struggle to survive, Suzu longs to return to her hometown of Hiroshima, one of the only areas that has not been damaged by air raids. The film is a lovely and heartbreaking look at wartime Japan from the point of view of an ordinary family. Focusing not on soldiers or politics, the film shows the viewer the daily life of ordinary people as their world falls down around them.
Fair warning: This movie will break your heart. As you watch the dates come and go on screen, your tension will only grow. The atomic bomb will drop – but of course that characters have no way of knowing that.
Find it in the catalog here.