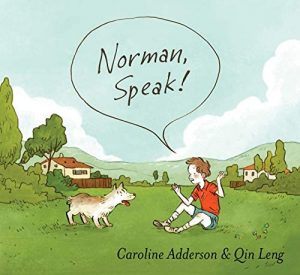 Norman, Speak!
By Caroline Adderson & Qin Leng
Format: Book
Who's it for: Kids
This heartwarming international children's picture book has a surprising twist. A boy and his family visit an animal shelter and select the dog that has been in the shelter the longest, a special dog named Norman. Norman is friendly and funny but, does not respond to the usual dog commands. His new family loves him anyway! On an outing in the park Norman's family learns something about him that changes everything! It turns out that Norman is super smart and has many things to teach and share with his new family.
Awards: 2015 United States Board on Books for Young People (USBBY) and 2015 Outstanding International Book (OIB).
Find it in the catalog here.