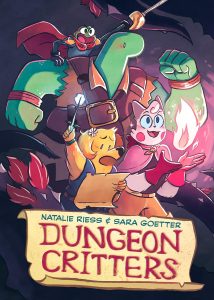 Dungeon Critters by Natalie Riess & Sara Goetter
Format: Graphic Novel
Who is it for: Kids, Teens
Dungeon Critters follows a group of four young animal adventures on their quest to prove themselves and save their kingdom. This book is absolutely charming.
After exposing a sinister plot involving a foul, necromantic plant, Chirp, Goro, June, and Rose must face the perils of dungeons, the rigors of high-society balls, and the literal trials of Bear Court! But adventuring is not all danger—there is ample room for young love.
What I really enjoyed about this book was the art style. The artists put a lot of effort into making each and every character unique and expressive. What starts off as a cute little fantasy romp, really ramps up into a dramatic and beautiful tale, with genuinely compelling characters.
The children and teens collection have always been filled to the brim with fantasy titles, so it is traditionally difficult for new works to stand out. However, Dungeon Critters has not problem captivating its audience; with diverse characters and vibrate art, I cannot recommend this book enough.