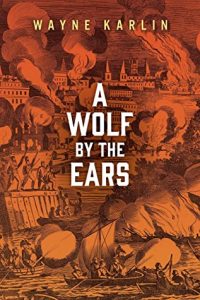 A Wolf By the Ears by Wayne Karlin
Format: Book
Who it's for: Adults
Step back in time over 200 years into this well told historical fiction story set right here in St. Mary's County during the War of 1812! See places familiar to you through the eyes of the main characters who are two enslaved people and their holder, living on a plantation during a tumultuous time in our local history.
When the British forces entice the enslaved to turn and fight against their holders, Towerhill, Sarai, and Jacob need to come to terms with the conflicts of slavery, loyalty, retribution, and justice. Their struggle is played out against the backdrop of the actual events of the invasion of Leonardtown by the British in 1814.
You'll be inspired to visit historical sites around the county to find out more about the facts behind this story!
The author, Wayne Karlin, will be part of our upcoming program on the Network to Freedom Trail sites in St. Mary's County. We'll be exploring the real history of the struggle for freedom by the enslaved in our county and tying it together with this work of historical fiction. Register for the virtual event!