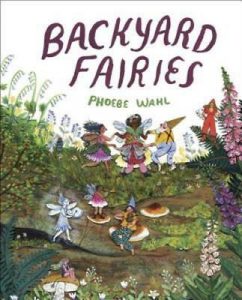 Backyard Fairies by Phoebe Wahl
Format: Book
Who it's for: Kids
A young girl goes searching for fairies in the woods in her backyard. She sees evidence of them everywhere, but they always seem to manage to stay just out of her sight. Luckily for readers, magical creatures are on every page of Wahl's multi-textured, whimsical illustrations, bringing the forest and magic to life.
Backyard Fairies by Phoebe Wahl is the perfect short and sweet bedtime read-aloud for children ages 3-7 (and – spoiler alert! – it even ends with our heroine's bedtime). Little ones will love searching each page for fairies and sprites hidden in plain sight.