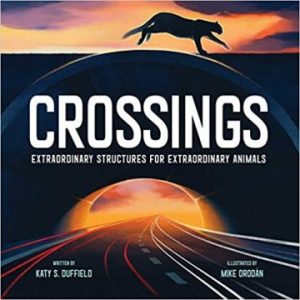 Crossings: Extraordinary Structures for Extraordinary Animals
by Katy S. Duffield and illustrated by Mike Orodan
Format: Book
Animal lovers around the world are building wildlife crossings. Over, under, around and through construction by humans. We humans build ways for us to get through with roads and overpasses, tunnels and more. But what happens when our construction encroaches on animal habitat? All around the world people that love animals are finding ways of building crossings that help animals get safely back around, under, over and through the roads that we humans have built.
Woven rope bridges for Squirrel Gliders in Australia. A tiny tunnel under the pavement in New Zealand for Blue Penguins. Blue tight rope bridges above roads for Titi Monkeys in Costa Rica are just a few of the wildlife crossings that have been constructed, just for the protection, of animals around the world.
You will be intrigued by the beautiful illustrations in this non-fiction book!