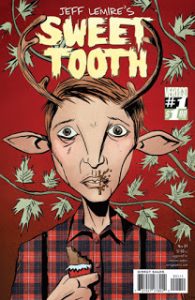 Sweet Tooth Vol. 1: Out of the Deep Woods by Jeff Lemire
Format: Book, eBook, Graphic Novel
Who it's for: Adults
An "affliction" has wiped out most of the population, and all the children born after the onset of this sickness are human-animal hybrids, like our hero, Gus, a young human-deer hybrid. Gus was raised in the woods, in isolation, by his father, who told him it was unsafe to ever leave the woods, but when his father dies, and hunters encroach upon the woods, Gus has little choice but to take the help of a mysterious drifter named Jepperd, who offers to deliver Gus to "The Preserve" where he promises Gus will be safe with other hybrid children.
So begins this graphic novel series, recently adapted into a TV show by Netflix, that is part Bambi, part Mad Max, part Island of Dr. Moreau, part The Road. Join Gus, AKA Sweet Tooth, for his love for candy, and Jepperd, AKA Big Man, for his large stature, on their epic quest across a post-apocalyptic America.
Find Sweet Tooth in the catalog