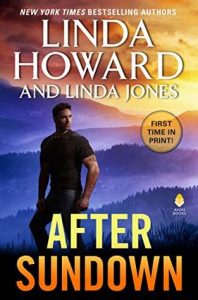 After Sundown by Linda Howard and Linda Jones
Who it's for: Adults
Format: Book
Sela, the reclusive owner of a general store in the eastern Tennessee Mountains finds safety in solitude, Ben the mysterious ex-military man living alone in the wilds of Cove Mountain may be the only man that can break through her protective shell.  For years, he's kept his distance from Sela and other not really communicating with anyone in the small town that sits below his mountain top home.  Then one day Ben appears at Sela,s store to warn her about the impending solar storm threat, capable of taking down the power grids in communities across the globe.  Sela must now find the strength and courage to step up and become the leader of Wears Valley, the small town where she lives with her aunt, cousin and a community of people that have known her most of her life.  She and Ben discover that in the dark, cut off from the outside world, danger brings together a community of people determined to survive a new way of life.   Along with two guarded hearts in a battle for survival where there is no more playing it safe–in life or in love.  This story had me thing about what if something similar happened around this community?  Would we know how to survive in this situation or would there be panic and chaos like there was with the pandemic and the threat of gas shortages.
Find After Sundown in the catalog!