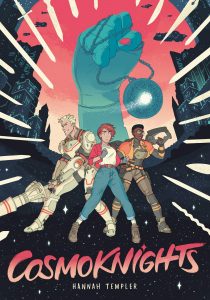 Cosmoknights by Hannah Templer
Format: Book, ebook, Graphic Novel
Who's it for: Teens
Prepare for the greatest games in the galaxy! Known as cosmoknights, these cyberpunk gladiators travel the stars to compete for the hand of a planet's princess. However, there are those who find no pleasure in the games, such as Pan—a young girl from the planet Viridian. When she meets two charismatic cosmoknights with ulterior motives for participating in these deadly games, Pan stows away on their ship in hopes of taking a stand against these planetary kingdoms. But space is vast and dangerous place – she'll have to pick up a few new tricks if she wants to survive.
Cosmoknights is vibrant, fun, and inspiring. Perfect for anyone trying to find their place in the universe.